Decorating with yellow can infuse your home with a burst of energy and warmth. Is this vibrant color the best option for your home's interior design? It is frequently linked to joy and optimism. In this article, We'll look at the benefits and drawbacks of using yellow in interior design . Find out if using yellow in your decor is the right choice for you by diving in!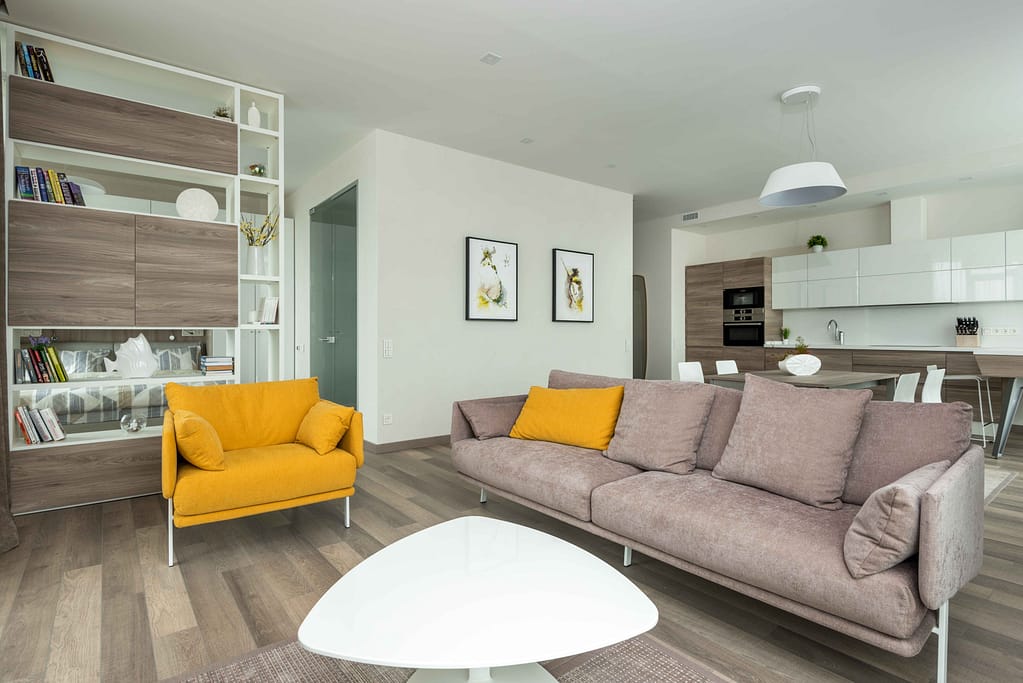 The Pros and Cons of Decorating with Yellow
| | |
| --- | --- |
| Pros of Decorating with Yellow | Cons of Decorating with Yellow |
| Adds a Pop of Color: Yellow is a bold color that can instantly add a pop of color to any room. It's perfect for injecting some life into neutral spaces in your home decor. | Can be Overwhelming: Yellow is a bold color that can easily become overwhelming if used excessively or inappropriately. |
| Evokes Happiness and Optimism: Yellow is often associated with feelings of happiness, warmth, and optimism. It can create a positive and uplifting atmosphere in your home, which can boost your mood and make you feel more energized. | Can Clash with Other Colors: While yellow can work well with many colors, it can also clash with some. For example, pairing yellow with certain shades of pink, purple, or red can create a jarring and visually unpleasing combination. |
| Yellow offers versatility in home decor with various shades and tones, ranging from soft to bold. It can be used in different ways and complements well with other colors like gray, white, blue, and green, making it suitable for various interior design styles. | May Not Suit All Design Styles: While yellow can be versatile, it may not suit all design styles. For example, if you have a minimalist or industrial style home, yellow may not be the best fit as it can appear too bright and bold. |
| Enhances Natural Light: Yellow has reflective properties that can help enhance natural light in a room. If you have a dark or poorly lit space in your home, adding touches of yellow can make the room feel brighter and more inviting. | Requires Maintenance: Yellow, like other bright colors, can show dirt, stains, and fading more easily compared to neutral colors. If you choose to use yellow in your home decor, you may need to invest more time and effort in maintenance to keep it looking fresh . |
Pros and Cons of Decorating with Yellow.
10 Creative Ideas for Decorating with Yellow
Are you ready to add a burst of sunshine to your home? Yellow is the only color you need! Yellow is a happy, upbeat color that instantly makes a room feel more cheerful. Decorating with yellow can infuse your home with warmth, joy, and a dash of playfulness, whether you're looking to make a strong statement or add subtle accents. We'll look at some concepts, advice, and inspiration for incorporating yellow into your interior design in this article.
1. Create a Focal Point
Firstly, any room can benefit from the striking focal point that yellow can produce. To instantly grab attention and make a statement, you can, for example, paint an accent wall a striking shade of yellow. A room's focal point can also be created by using yellow wallpaper with intriguing patterns or textures. Yellow can be used as an accent color in furniture, artwork, or accessories to create a focal point in a room with neutral colors if you prefer a more understated style.
2. Play with Shades of Yellow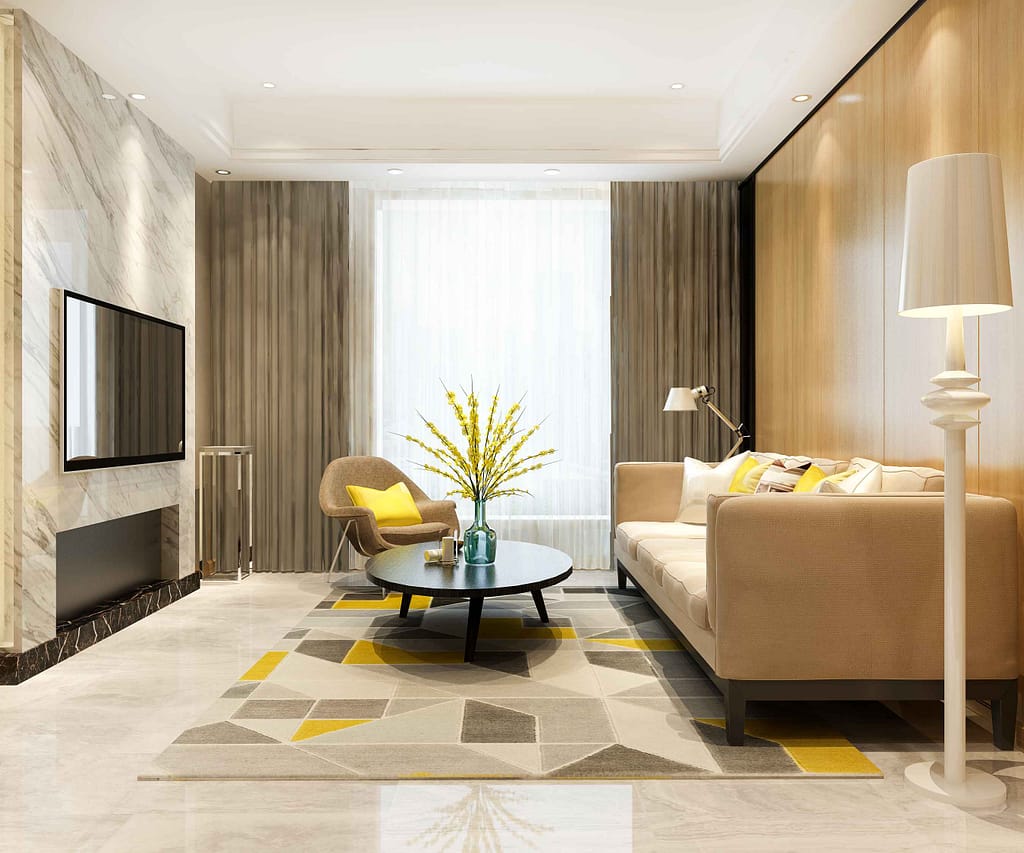 Secondly, There are many different shades of yellow, from delicate pastels to vibrant tones. Choose the right shade of yellow based on the atmosphere you want to evoke in your room. For bedrooms or living rooms, soft lemon yellows, buttery yellows, and pale golds can set a tranquil and serene mood. Bright yellows, on the other hand, like mustard yellow and sunflower yellow, can add excitement and energy to a space.
3. Use Yellow in Furniture and Accessories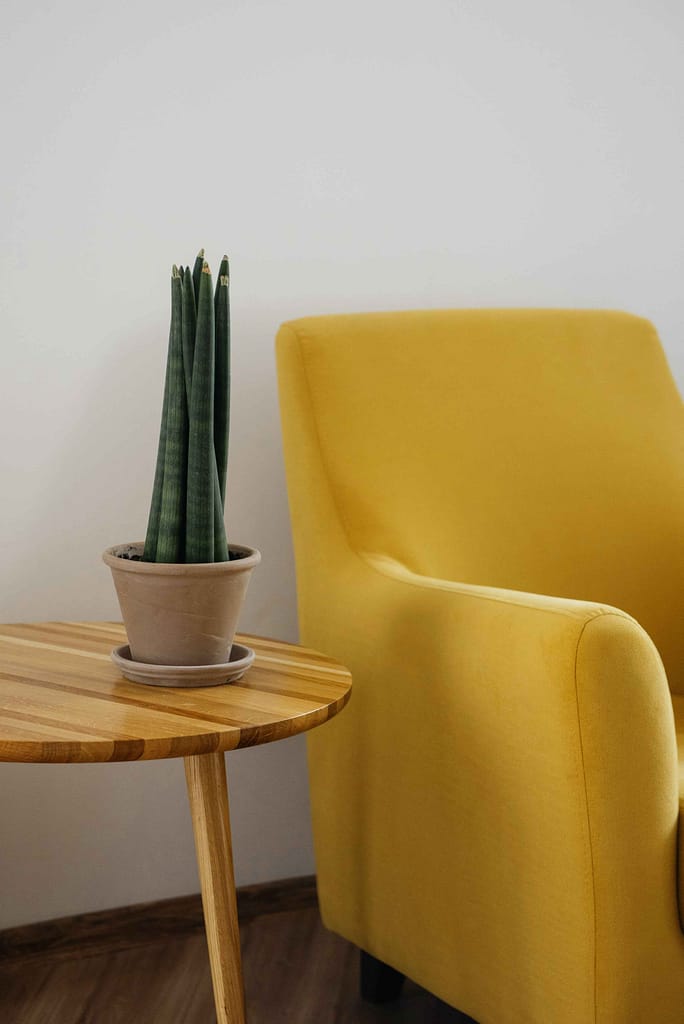 Thirdly, You can use yellow to add pops of color and create a cohesive look by incorporating it into your furniture and accessories. Your living room can benefit from a statement yellow sofa, armchair, or ottoman to add some color and personality. Your seating areas can benefit from the warmth and texture that yellow rugs, throw blankets, and cushions can bring. Any room can benefit from adding yellow accents like lamps, vases, or decorative items because they add a playful and endearing touch.
4. Embrace Yellow in Your Kitchen
The kitchen is the ideal room to experiment with yellow decor because it can produce a cheery and welcoming atmosphere. Yellow kitchen countertops, cabinets, or backsplashes can make your kitchen appear bright and cheery right away. Additionally, you can use kitchen utensils, dishware, and appliances to add yellow accents. The color yellow can add a special touch of personality , and go well with a variety of kitchen styles, from modern to farmhouse.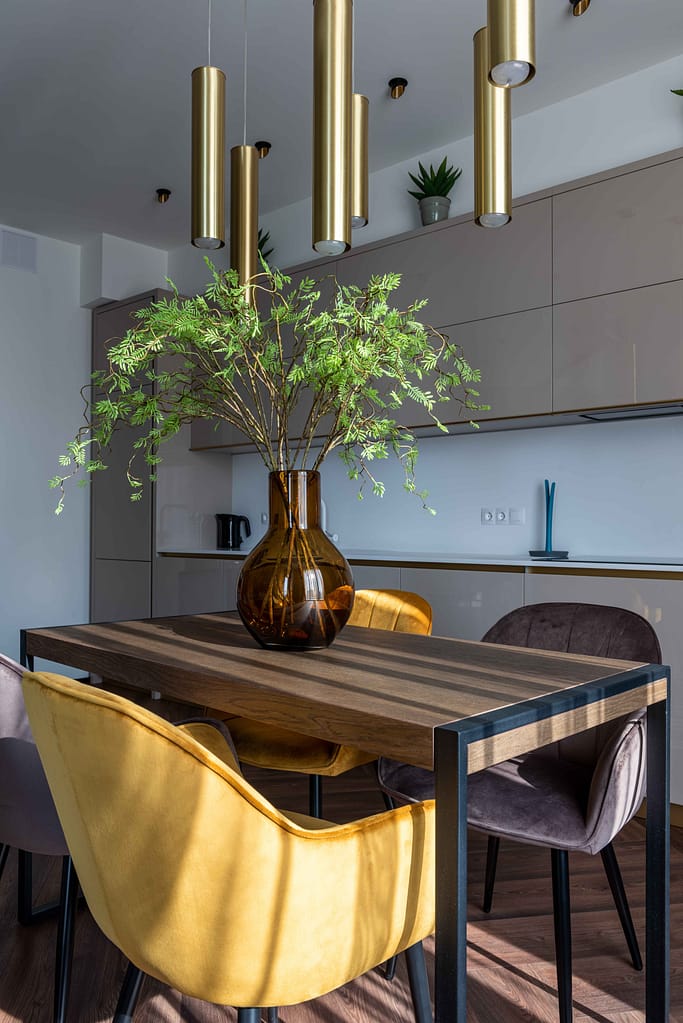 5. Add Yellow to Your Wall Art and Decor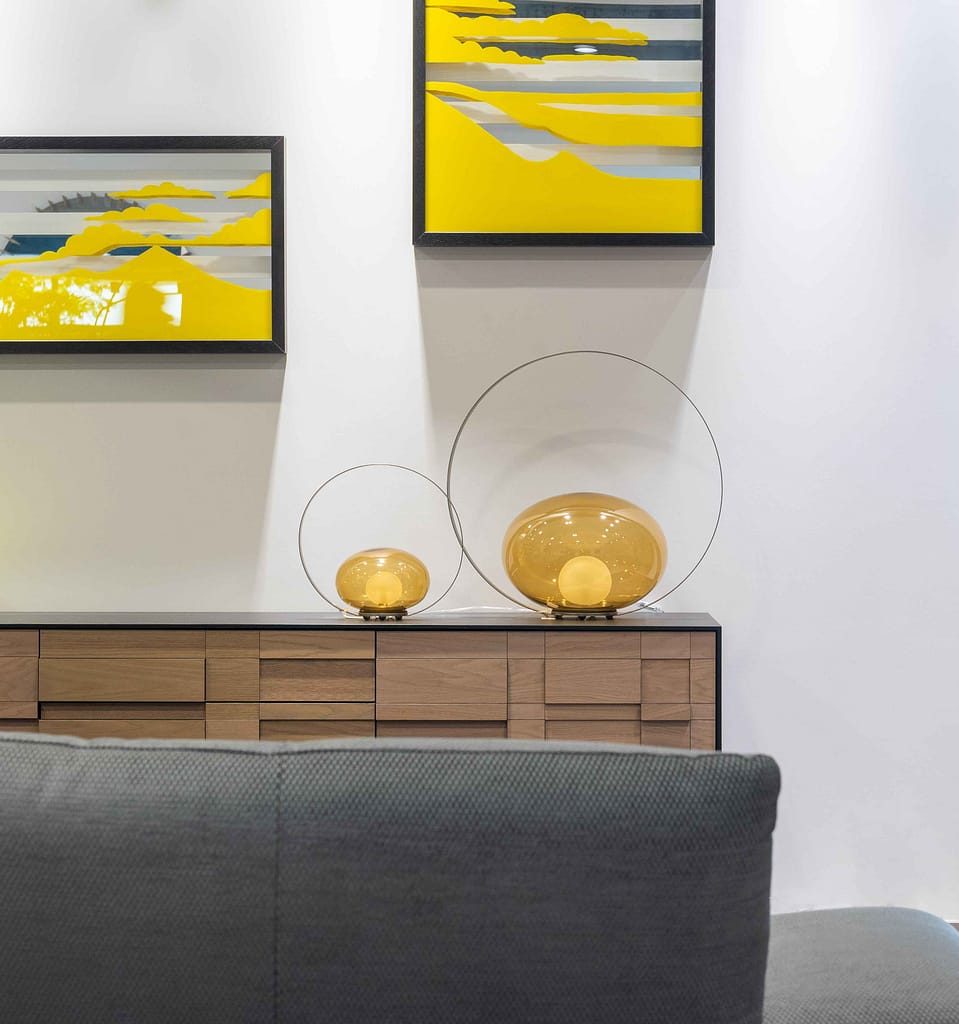 You can use yellow in your wall art to add visual interest or to establish a focal point. Paintings, prints, or images with a yellow theme can add color to your walls and foster a playful, artistic atmosphere. To display your preferred pieces of art or photography, use yellow frames or mats. Additionally, yellow wall decor like clocks, shelves, or mirrors can give your room a unique touch.
6. Pay Attention to Lighting
The appearance of yellow in your space is greatly influenced by the lighting. The warmth and vibrancy of yellow can be enhanced by natural sunlight, whereas the tone can be changed by artificial lighting. When choosing yellow decor, take into account the lighting in the room and how it might affect the color's appearance.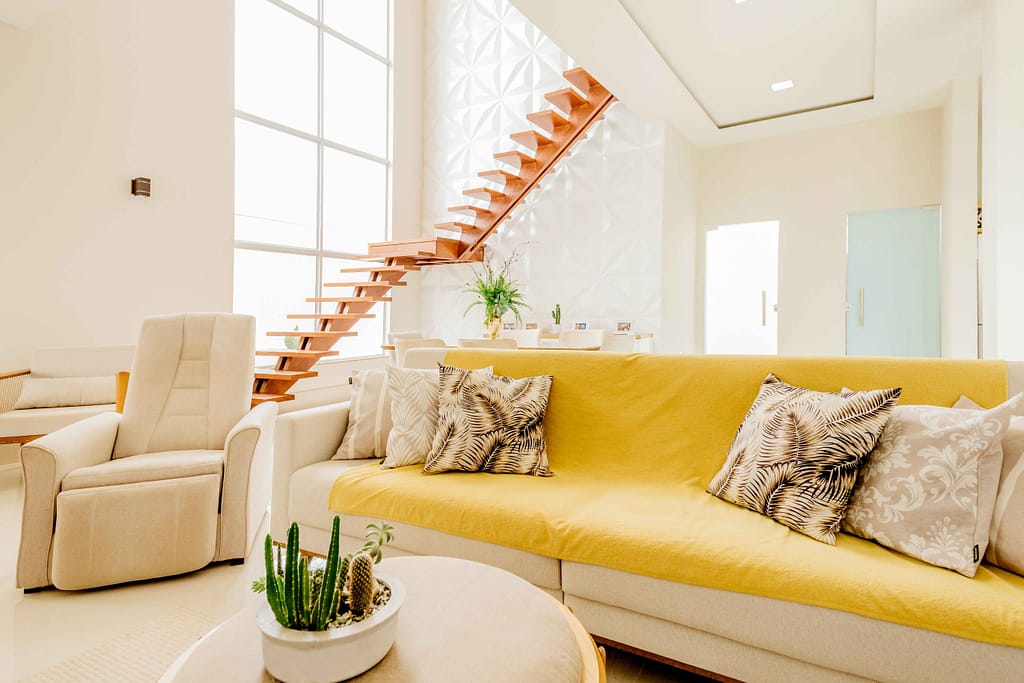 7. Use Yellow in Kids' Rooms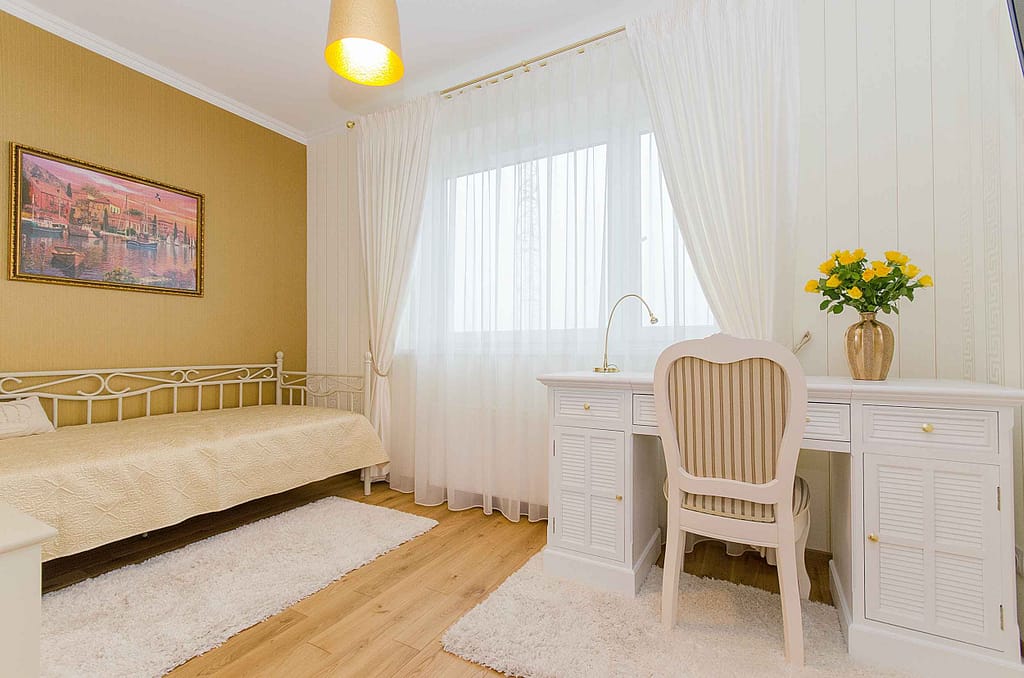 Yellow is the ideal color for children's rooms because it can foster a playful and imaginative atmosphere. To create a whimsical and stimulating atmosphere, you can paint the walls a soft yellow color or cover them with yellow wallpaper that has playful patterns like stars, stripes, or polka dots. To make a cheery and bright space for your children, you can also use yellow in the furniture, bedding, and decorations.
8. Mix Textures and Patterns
After that, Yellow can be used to create interesting and dynamic decor by combining it with various textures and patterns. To give your walls depth and visual interest, think about using yellow textured wallpaper, such as grasscloth or textures modeled after fabric. To create a distinctive and striking appearance, you can also combine various yellow patterns, such as chevron, floral, or geometric, in your throw pillows, curtains, or upholstery.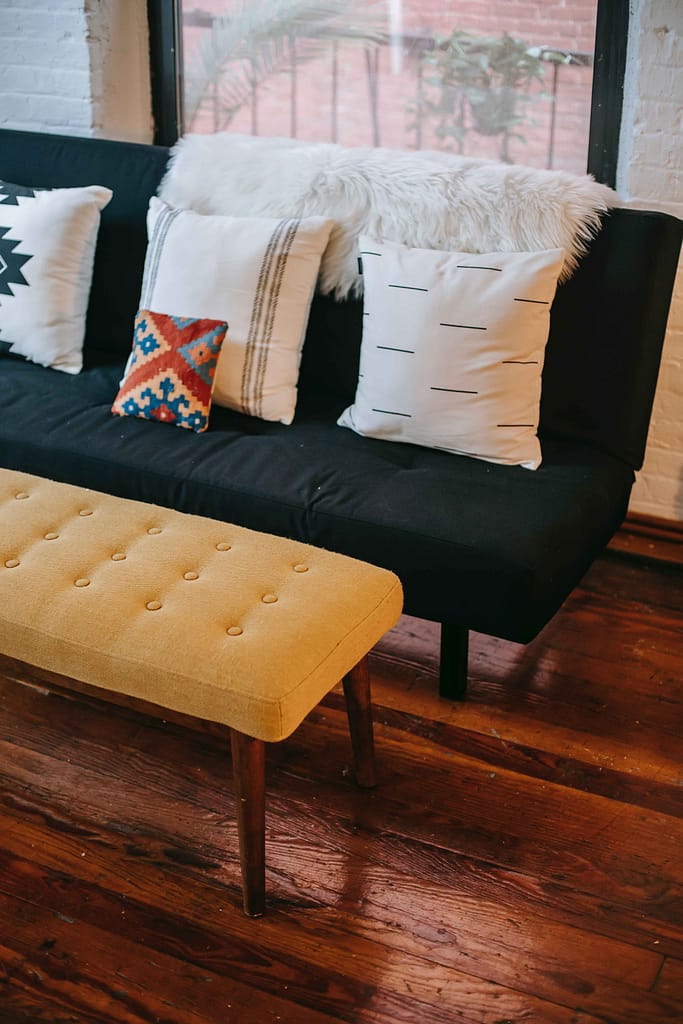 9. Use Yellow in Small Doses
If you're unsure about using yellow as a dominant color, you can begin by adding it sparingly. For instance, to add visual interest and pops of color, you can add yellow accents through smaller decor items like yellow candles, picture frames, or books. Another place where yellow can be used sparingly is in gallery walls, where you can mix and match yellow artwork with other colors for a fun and eclectic appearance.
10. Mix and Match with Complementary Colors
lastly, a harmonious color scheme can be made by combining yellow with a variety of complementary hues. Yellow can be matched with gray or white for a light, contemporary appearance. Yellow and gray make an elegant and modern pairing, while yellow and white conjure up a fresh and airy aesthetic. Blue, purple, and green can also be combined with yellow to produce a joyful and vibrant ambiance. Find the color scheme that best suits your personal preferences and style by experimenting with various color combinations.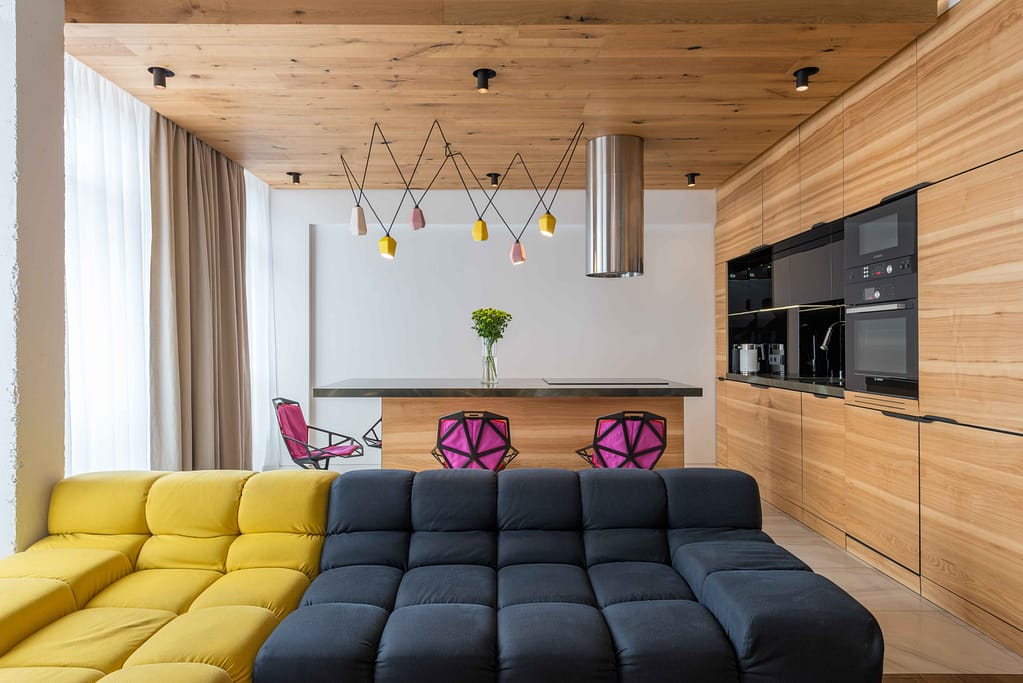 What Colours Match with yellow ?
Gray:
Yellow and gray can create a sophisticated and modern look. Pale or soft grays can provide a subtle backdrop for yellow to shine, while darker grays can create a bold contrast with bright yellow accents.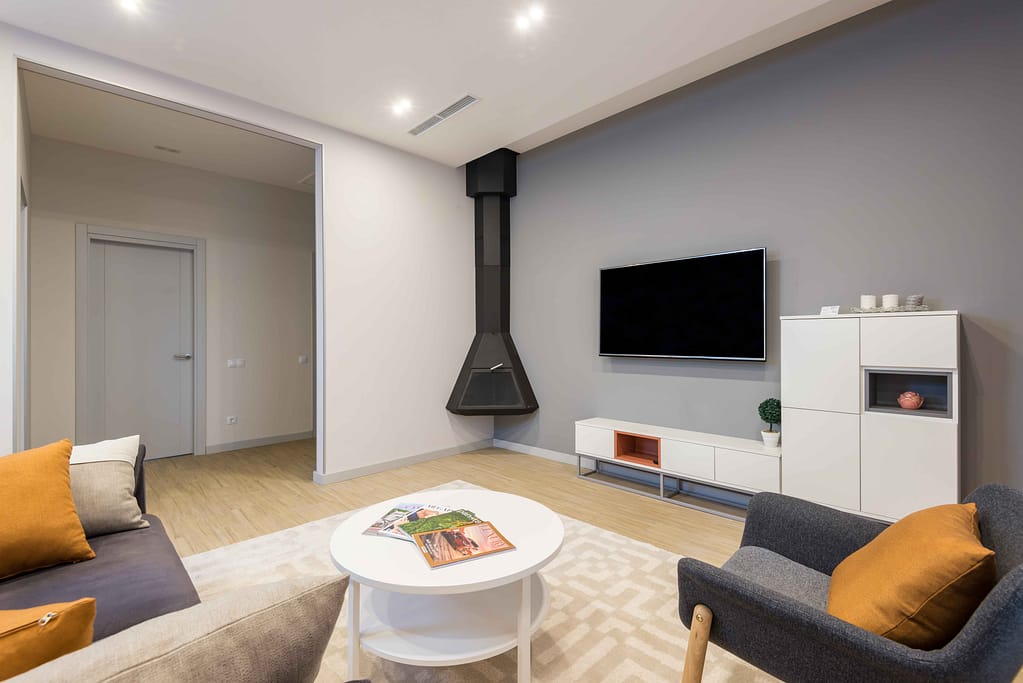 White:
Yellow and white can create a fresh and clean look. White can serve as a neutral backdrop for yellow to pop against, and it can also help to balance out the brightness of yellow, creating a harmonious and airy feel.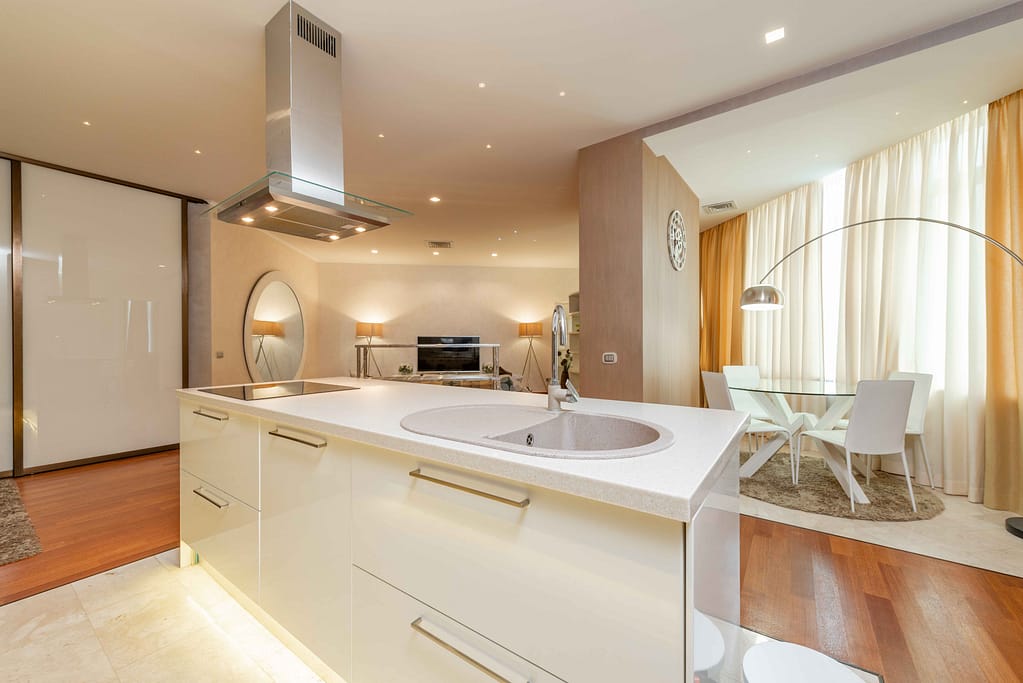 Navy Blue:
Yellow and navy blue can create a striking and bold contrast. The deep, rich navy blue can provide a grounding effect against the brightness of yellow, creating a visually appealing and dynamic color pairing.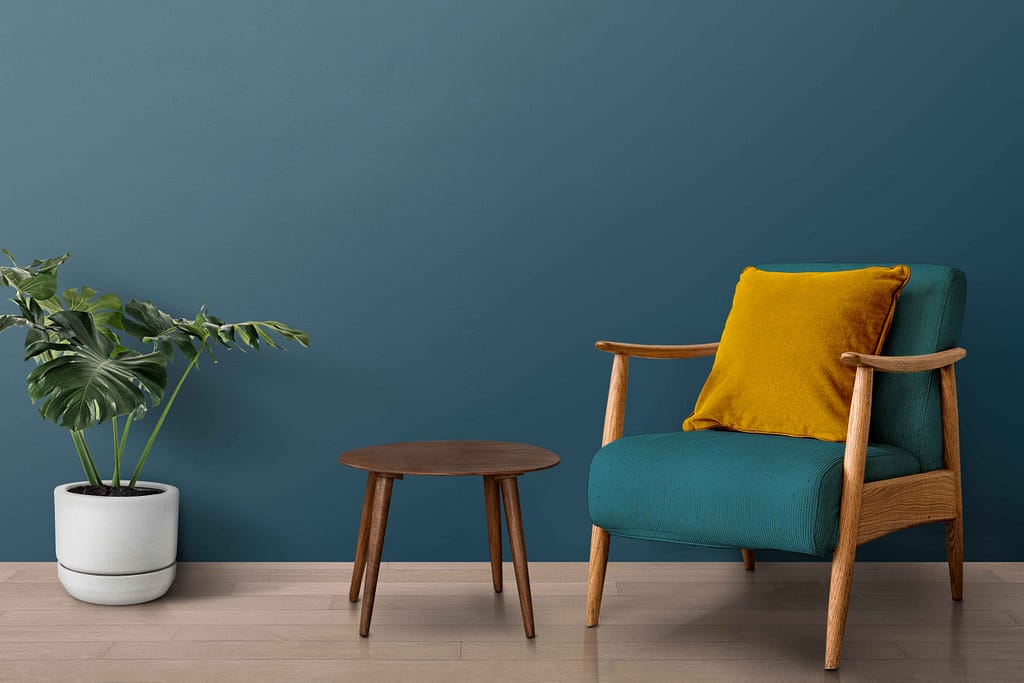 Teal:
Yellow and teal can create a vibrant and energetic combination. The bold and saturated hues of teal can complement the warm tones of yellow, creating a lively and cheerful ambiance.
Purple:
Yellow and purple can create a complementary color scheme. The contrasting nature of these two colors can create a visually stunning and dynamic look. Pairing yellow with shades of purple, such as lavender, lilac, or deep plum, can create a sense of balance and harmony.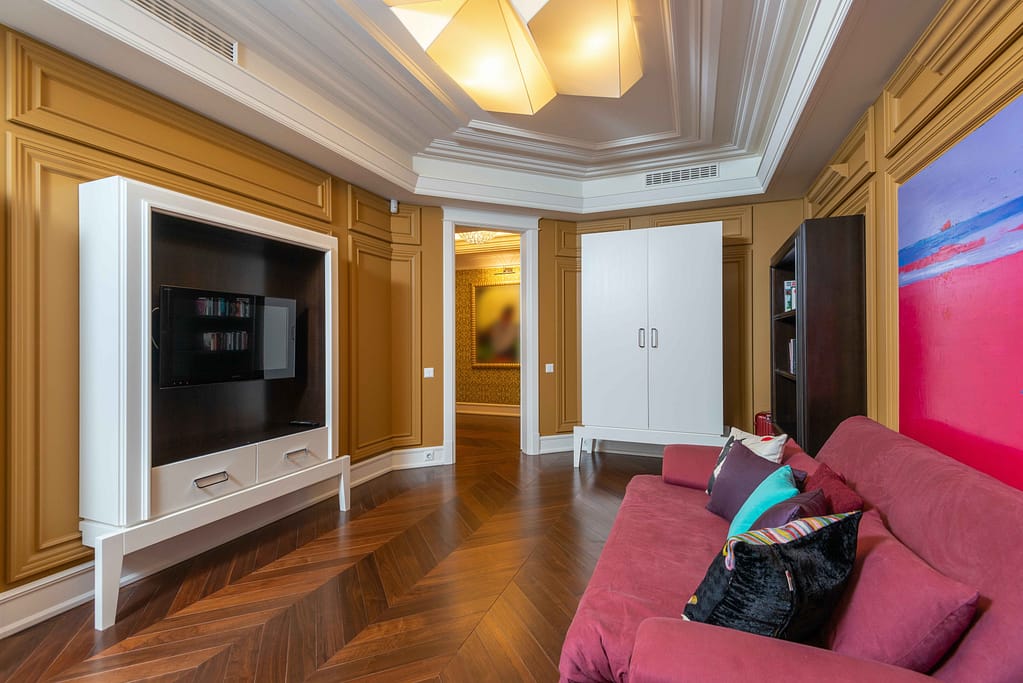 Green:
Yellow and green can create a fresh and natural combination. Pairing yellow with different shades of green, such as lime, chartreuse, or sage, can create a refreshing and invigorating color palette that evokes a sense of nature and vitality.
Pink: Yellow and pink can create a playful and cheerful combination. Pairing yellow with shades of pink, such as blush, coral, or hot pink, can create a fun and energetic look that adds a touch of femininity to your decor.
Brown:
Yellow and brown can create a warm and earthy combination. Pairing yellow with different shades of brown, such as caramel, chocolate, or rust, can create a cozy and inviting ambiance with a touch of rustic charm.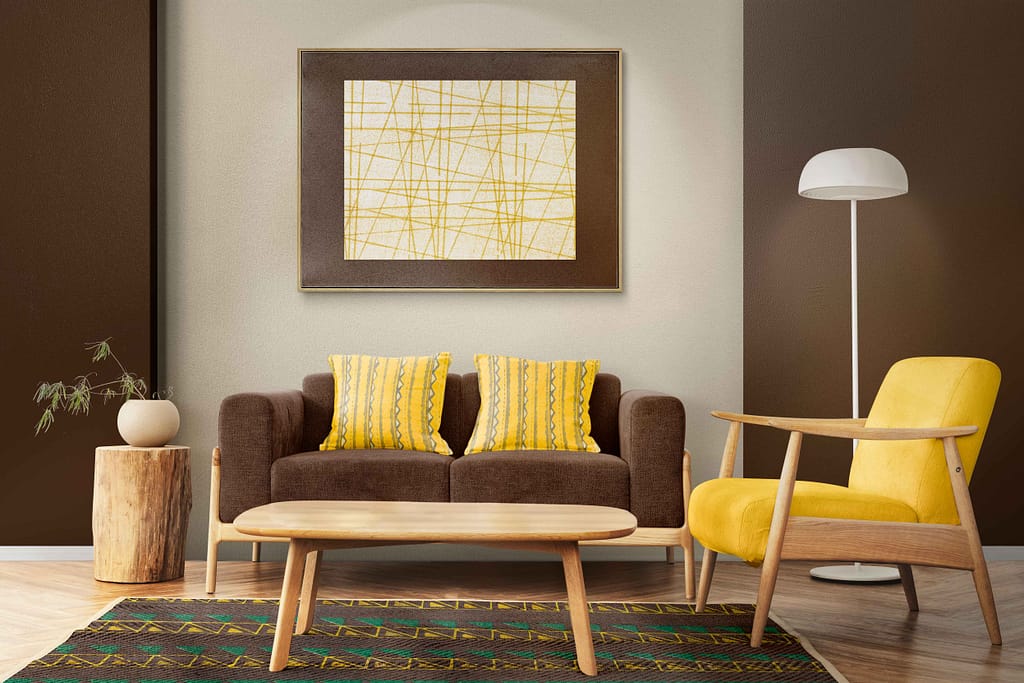 To summarize, Always keep in mind that when using yellow in your decor, it's important to take into account the overall style and theme of your room, as well as your personal preferences and the amount of natural light in the space. To create a look that reflects your distinct style and personality, play around with different yellow shades, textures, patterns, and placement. Enjoy yourself and embrace the warmth and joy that yellow can add to your home's decor!