Black Decor Unveiled: 20 Inspiring Ideas for Sophisticated and Chic Spaces.
Few colors have the allure and adaptability of black in the field of interior design. Recently, black has become a standard for people looking to add elegance, sophistication, and modernity to their spaces because of its ability to effortlessly complement any style. The use of black in decor creates a timeless and striking appeal, whether it be through statement pieces or subtle accents. We explore how this enigmatic color can turn your living spaces into chic, affluent havens of style as we travel through 20 inspiring ideas for decorating with black in this article. Discover the power of black as we reveal its capability to take the allure and charm of your home decor to new heights.
20 Ways to Transform Your Home with Black Decor:
Black is a color of enduring elegance and mystique that can make any room feel like a chic haven. Black can add a captivating and stylish atmosphere to your home decor, whether you want to make a statement or add a subtle touch. Here, we offer 20 creative suggestions for using black in your decor so you can fully utilize this seductive color.
1.Monochrome Magic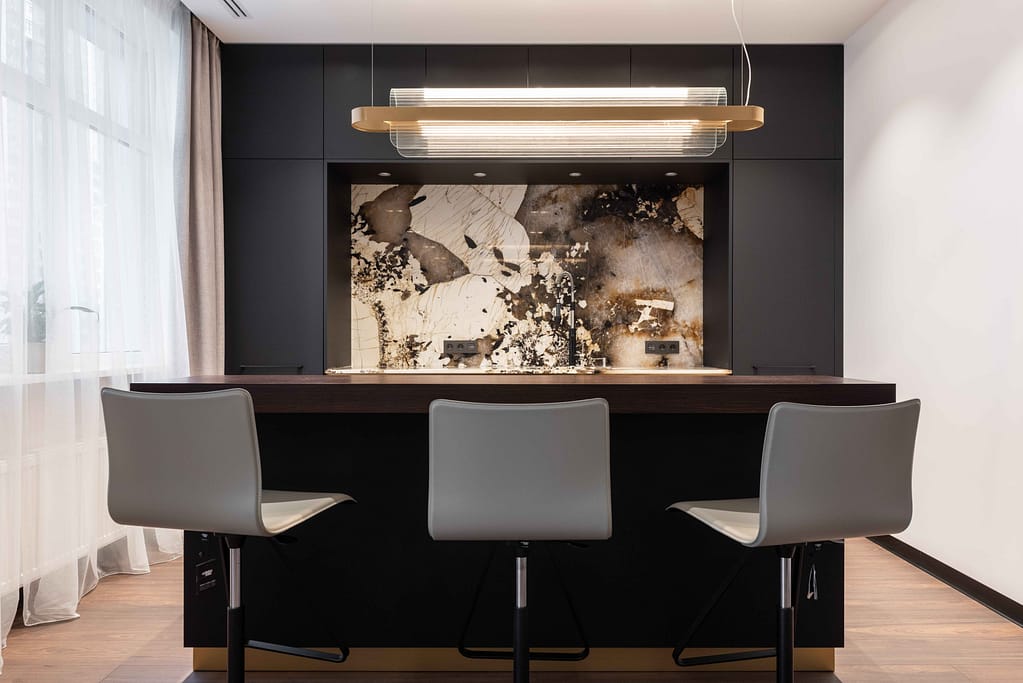 A monochromatic color scheme involving various shades of black can set the stage for a striking and cohesive interior. On walls or substantial pieces of furniture, start with a base of deep black. Layer progressively lighter and darker shades of black into your furnishings, clothing, and accessories. To add depth, mix up the textures by using matte, glossy, and metallic finishes. So,this method offers a classic and sophisticated appearance that is simple to maintain and works well with almost any accent color, making it a flexible option for your interior design.
2.Chic Black Furniture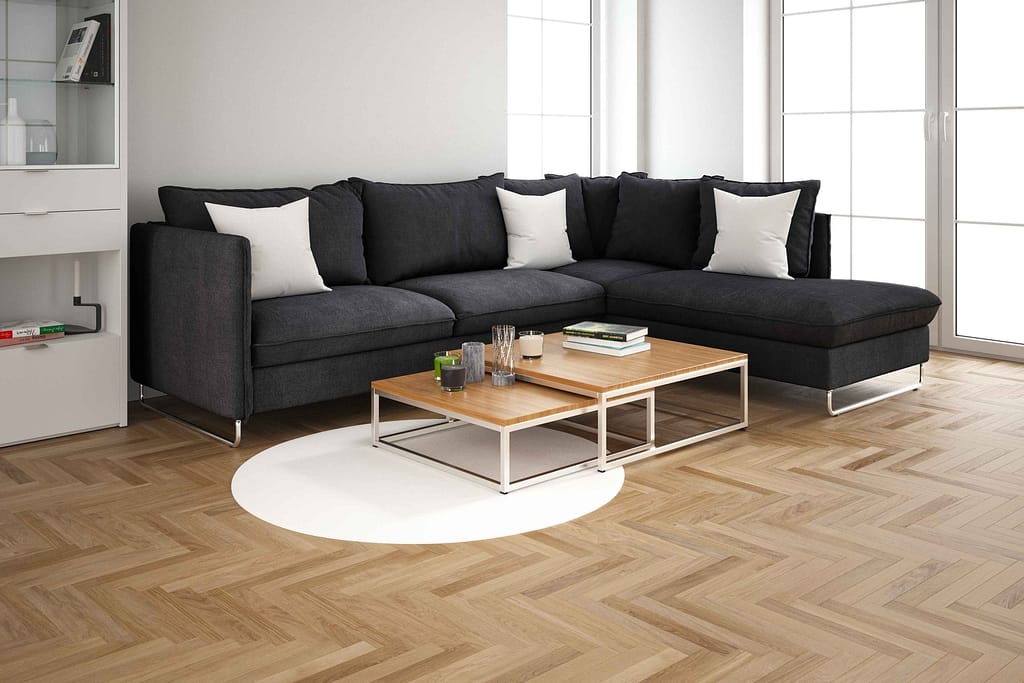 Black furniture pieces instantly inject style and sophistication into any space. Think of a black leather sofa as the elegant focal point of your living space. In your dining area, a black dining table can make a bold statement. Black bookcases offer a sophisticated backdrop for your library. however, make the room feel balanced by using contrasting colors and textures when using black furniture with other decor components. For a calming yet striking atmosphere, temper the boldness of black with neutral-colored rugs, cushions, and curtains.
3.Dramatic Accent Wall
A room's one wall can be painted a striking shade of black to instantly draw the eye and command attention. The contrast between light and dark can be visually appealing, so this strategy works particularly well in spaces with lots of natural light.
For a dramatic effect, think about a deep charcoal or matte black. Balance the black wall with lighter furniture and decorations to keep the space from feeling too enclosed. To reflect light and give the impression of space, use reflective materials like mirrors or metallic accents.
4.The Power of Contrast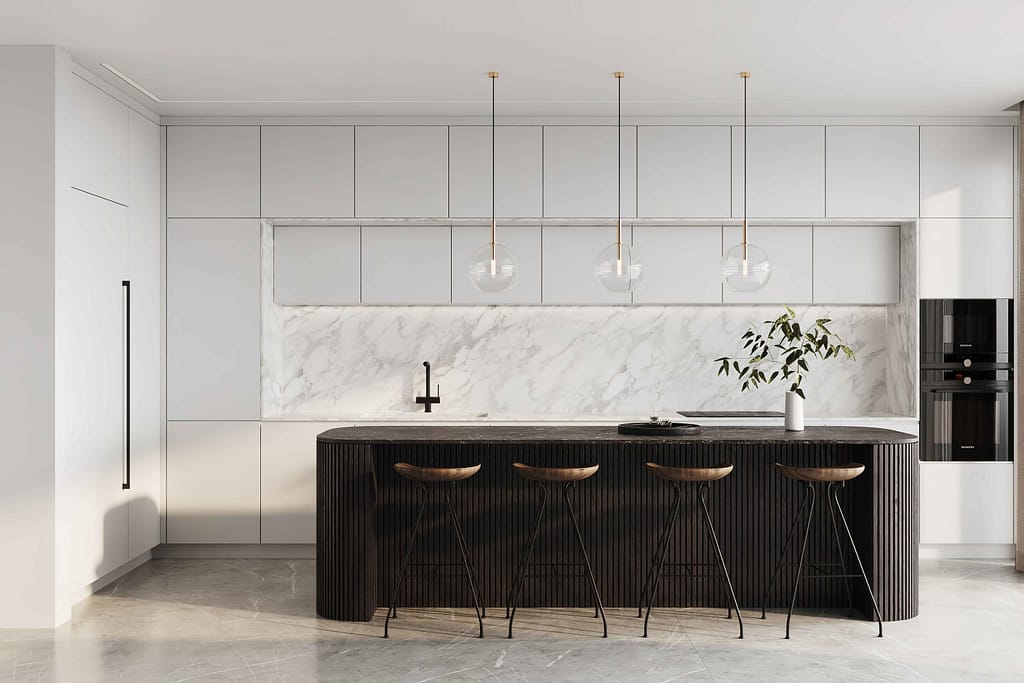 black decor elements with stark white can create a timeless and alluring contrast. White walls offer a blank slate that makes black accents, artwork, and furnishings stand out. Think of a white dining room with black chairs or a white sofa with black throw pillows. Your space is made more visually appealing and elegant by the interplay of light and dark. A more dynamic interplay of hues can be achieved by sparingly adding additional accent colors, such as red or gold.
5.Black and Gold Glamour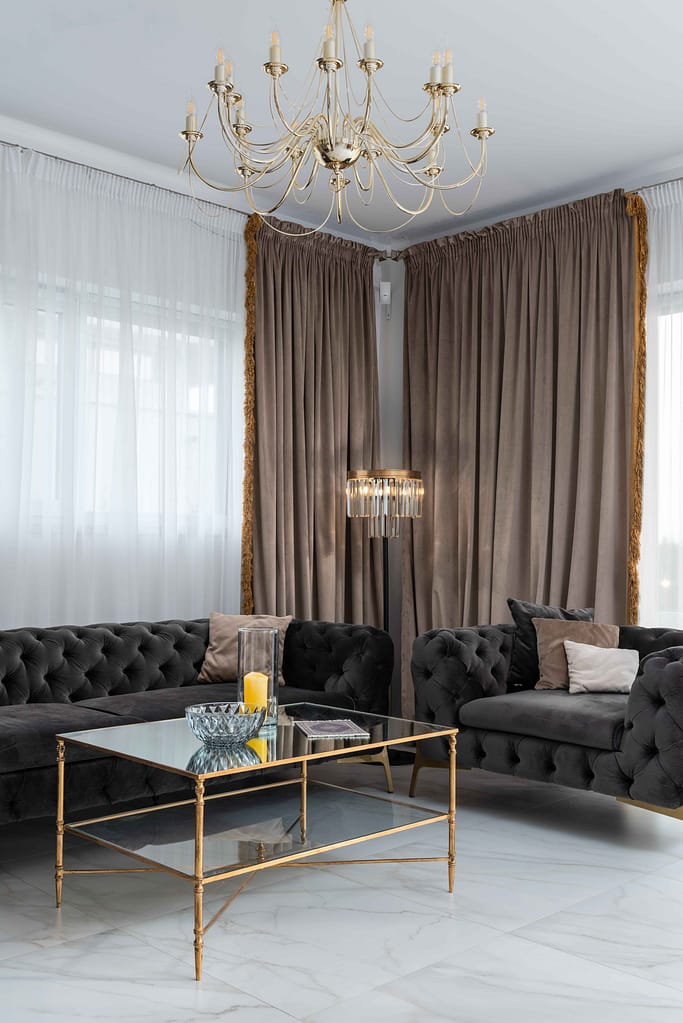 Black and gold are a classic combination that conjures up opulence and glamour. Start with a foundation of black decor items, such as black walls or furniture, to create this opulent appearance. Afterward, incorporate gold accents with decor, lighting, and accessories. Gold accents on furniture or hardware exude sophistication, while gilt frames on mirrors or artwork can impart a regal atmosphere. This combination creates a timeless elegance and extravagance that works especially well in living rooms and bedrooms.
6.Matte Black Elegance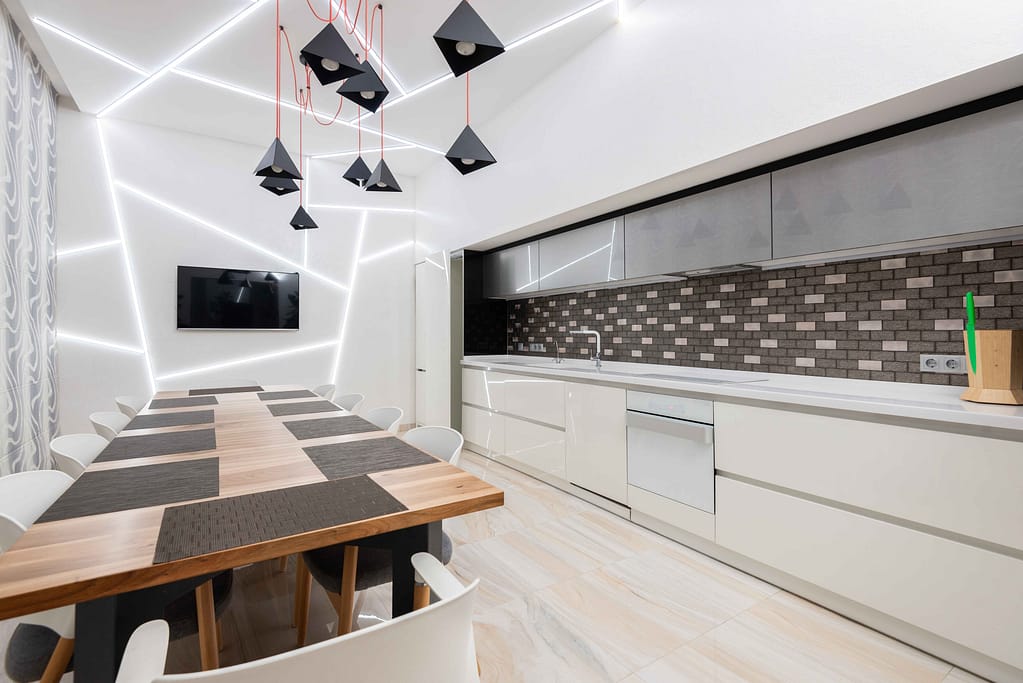 Matte black decor fixtures and hardware can introduce a sense of modern elegance into your space. For a modern edge, choose matte black light fixtures, cabinet handles, and faucets in the kitchen and bathroom. Compared to glossy black, matte finishes have a softer appearance, making them suitable for a variety of design styles. They also go well with a variety of hues and materials, including natural wood cabinets and white marble countertops.
7.Sleek Black Kitchen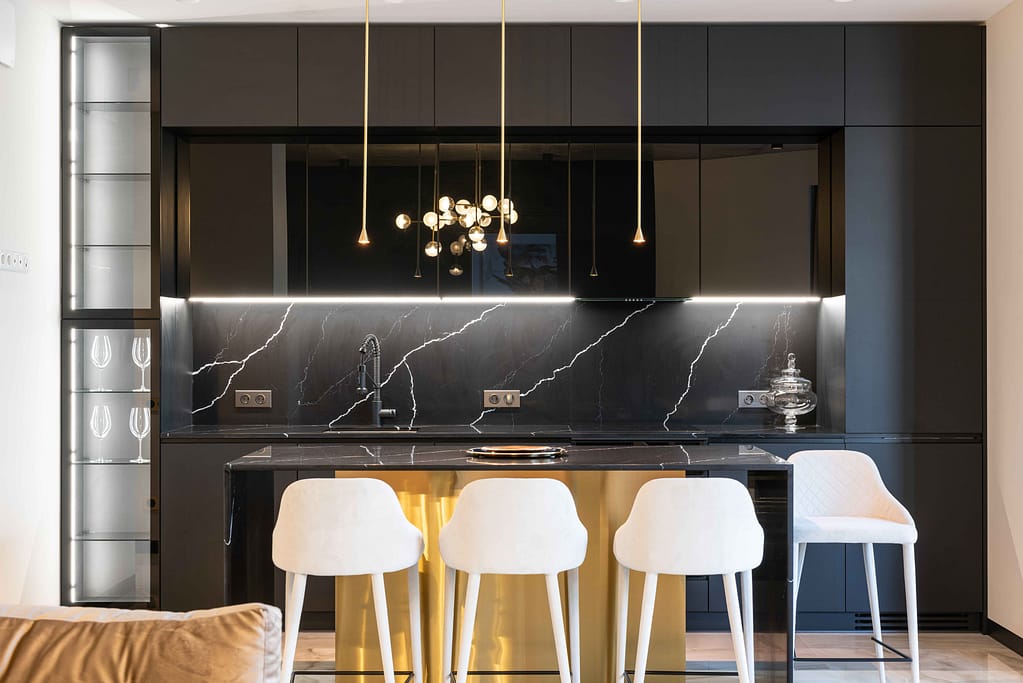 The height of luxury and modernity can be found in a modern black kitchen. In contrast to stainless steel appliances and marble or quartz countertops, black kitchen cabinets make a strong statement. Keep the walls, backsplash, and flooring light in color to counteract the dark cabinetry.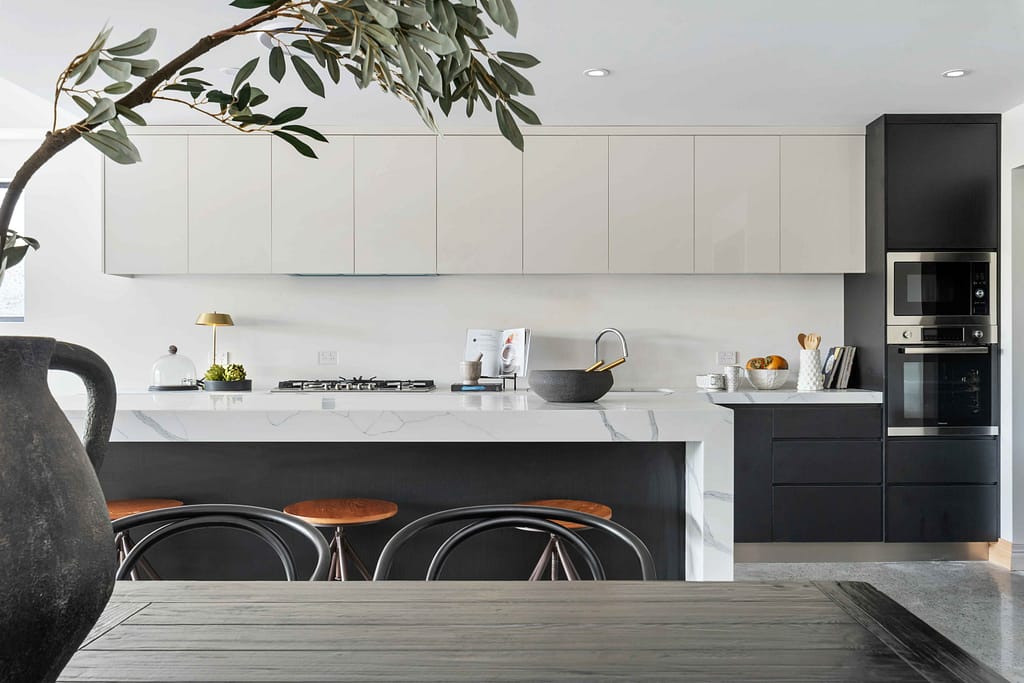 Displaying your kitchenware and decorative items on open shelving with black brackets can create a trendy contrast. For a seamless and elegant appearance, use matte black faucet handles and cabinet knobs. In modern and urban settings, where it exudes a sense of elegance and sophistication, this kitchen style is particularly appealing.
8.Industrial Edge with black decor:
Dark wood, exposed pipes, and accents made of black metal can give a room an urban feel for those who enjoy an industrial-chic aesthetic. To add a touch of industrial character, start with windows and doors with black metal frames. For a warm and textured contrast, pair this with dark wood furnishings or flooring. The industrial theme is further cqnenhance by exposed pipes, air ducts, and brick walls. Include textiles and upholstery in earthy hues like rust or olive green to soften the look. This design blends historical preservation with cutting-edge architecture to great effect in loft apartments and urban homes.
9.Gallery of Black Frames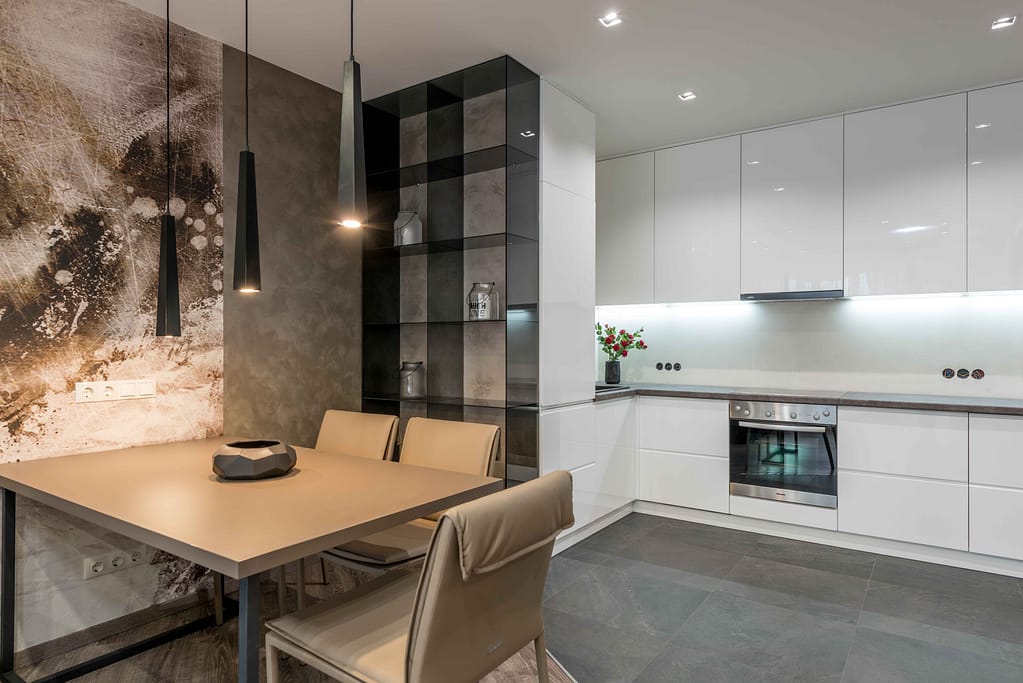 potent way to express your unique taste and interests is to set up an art gallery in your home. Black frames and a white background allow art to stand out while also adding a touch of sophistication when displaying it. Choose works of art that have a similar theme or color scheme for a more unified and curated appearance. Try out various sizes and arrangements, and group the frames in a grid or gallery wall pattern. Incorporate gallery lighting that highlights your artwork to increase the gallery's impact. This architectural idea turns your house into a lively, visually appealing setting where each work of art is a narrative.
10.Velvet Touch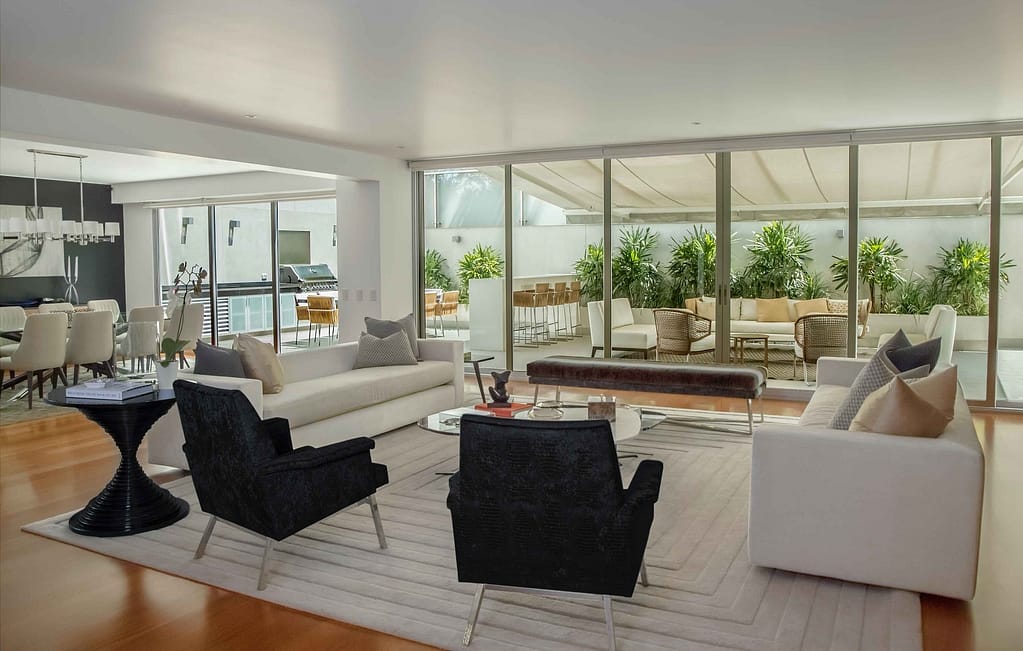 Black velvet upholstery can add opulence and comfort to your decor. Your living room will instantly feel more opulent and tactilely rich with the addition of a black velvet sofa or armchair. The plush texture and lustrous appearance of velvet produce a warm and welcoming environment. Layering black velvet pillows or curtains can help to create an even more opulent atmosphere. Add accents made of contrasting materials, such as slick metal or glass, to counteract the plushness of velvet. Your space will be both aesthetically striking and hospitably inviting thanks to this harmonious blend of textures and finishes that bring together glamor and contemporary style.
11.Minimalist Masterpiece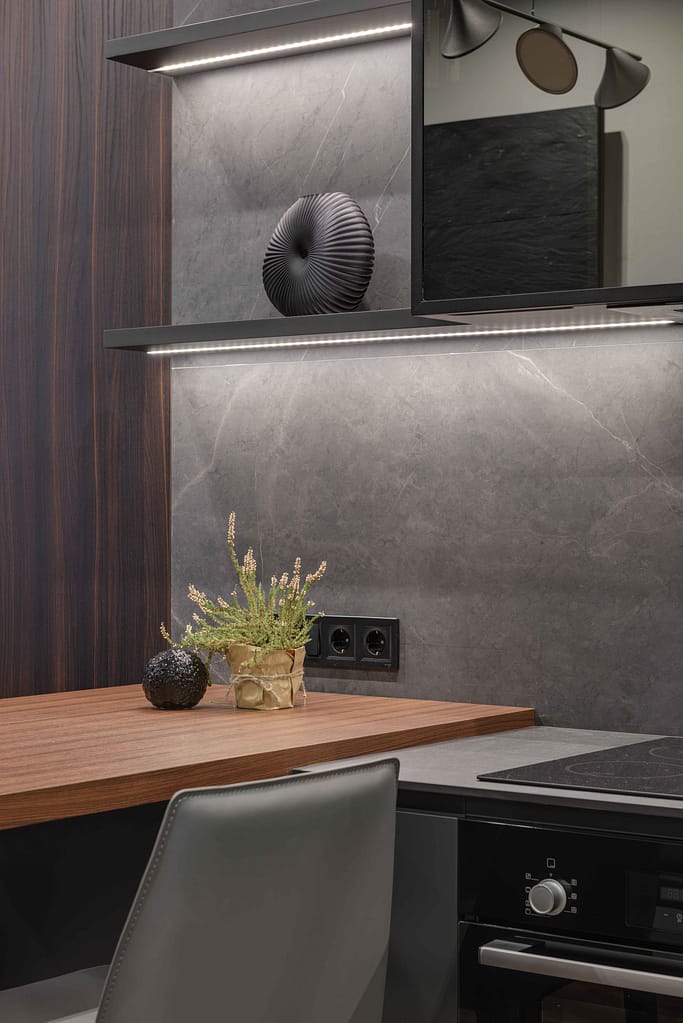 Black decor highlights clean lines, functionality, and simplicity in a minimalist environment. Taking a minimalist approach entails organizing your space and selecting furniture with care. To keep the room open and airy, start with a neutral backdrop of white or light gray. Focus on the clean geometry and simple design of the furniture, fixtures, and decorative items you use to introduce black elements. Black minimalist décor can produce a calm, uncluttered atmosphere that promotes mindfulness and serenity. This design is best suited for spaces like bedrooms, bathrooms, and home offices where tranquility is desired.
12.Black Ceiling Drama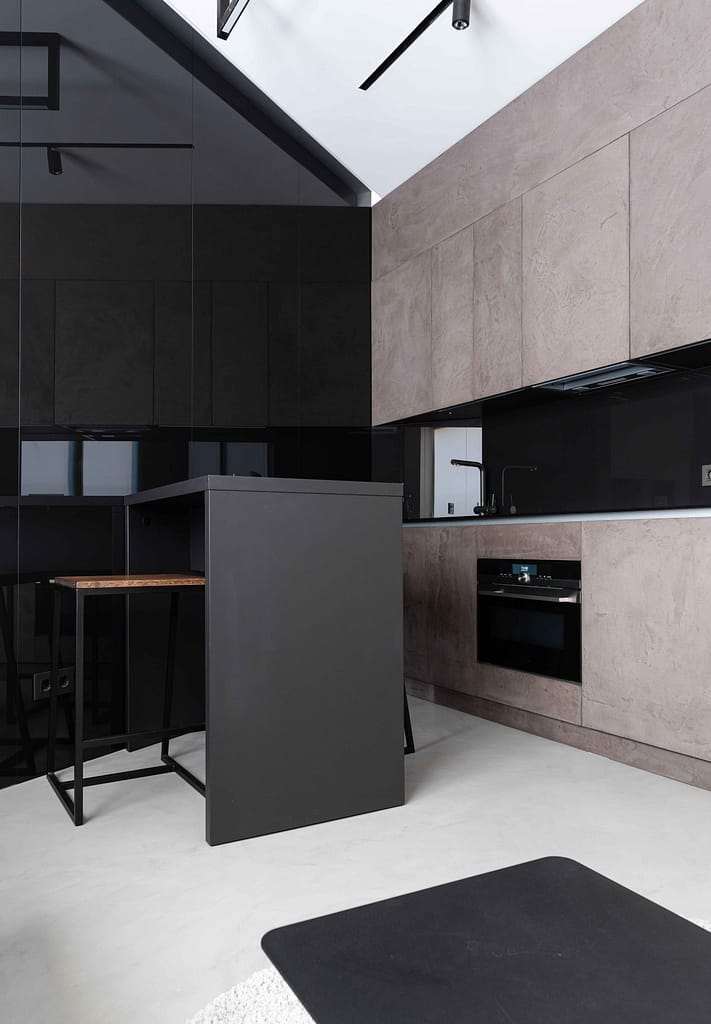 Although painting your ceiling black may seem out of the ordinary at first, it can add drama and intimacy to your space, especially in rooms with high ceilings. A room can appear smaller and cozier with a black ceiling, which visually reduces the height of the space. Keep the walls and floors a lighter color to balance the dark overhead. To keep the space well-lit, include plenty of lighting, such as chandeliers or pendant lights. A black ceiling can draw attention to architectural details like beams or moldings and add a touch of elegance to a room. To add depth and intimacy, this design decision is frequently used in dining rooms, bedrooms, and home theaters.
13.Outdoor Opulence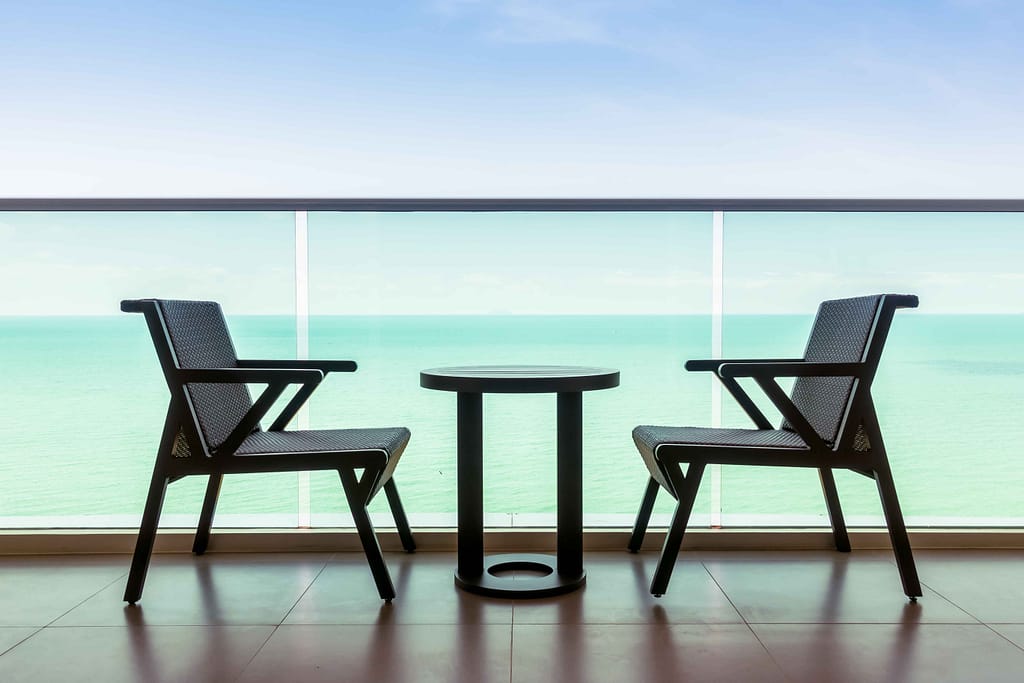 Extending the allure of black decor to your outdoor spaces can create a harmonious indoor-outdoor aesthetic.To create a sleek and modern outdoor space, choose black outdoor furniture such as dining sets, lounge chairs, or benches. These items frequently include weather-resistant materials, such as powder-coated steel or aluminum, to ensure durability in various climates. To maintain comfort and style, pair the black furniture with outdoor accents and cushions in muted tones. Add natural elements like potted plants, stone pavers, or wooden decks to soften the overall appearance. In contemporary and minimalist outdoor spaces, black outdoor decor is particularly effective and acts as a stylish extension of your interior design.
14.Striking Black Fireplace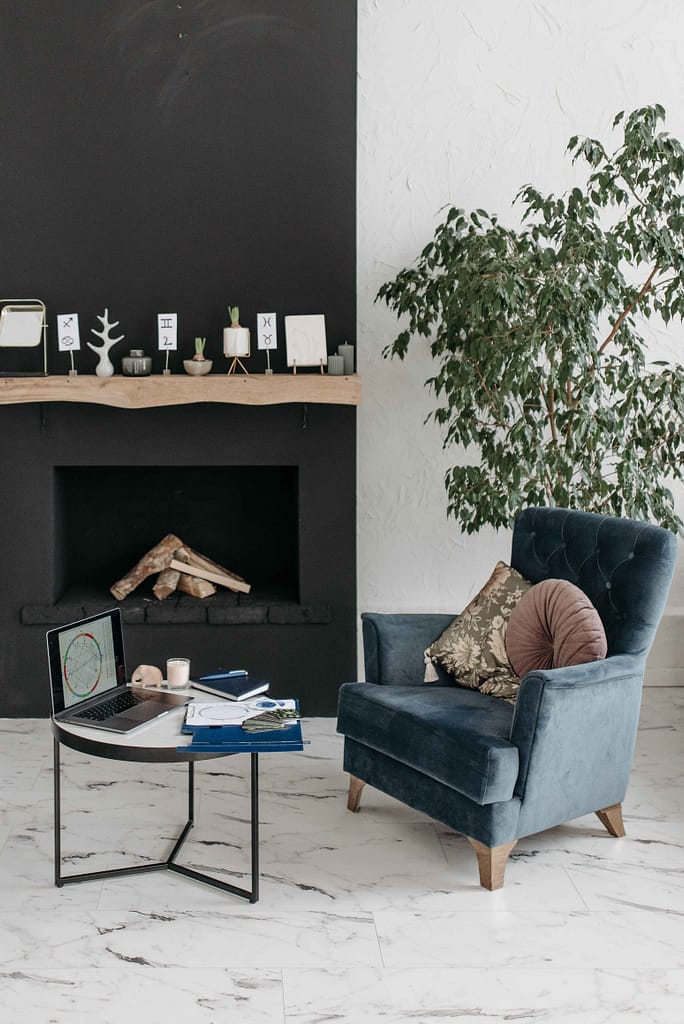 Your fireplace can become a striking and alluring focal point in your living room or bedroom by being painted black. In stark contrast to lighter-colored walls, a black fireplace commands attention. Additionally adding a touch of drama and sophistication is the choice of black. You can either focus on the mantel and hearth for a more subtle effect, or you can paint the entire fireplace structure black, depending on your preferred style.
Add tasteful furnishings and accents to go with the black fireplace, like a big mirror or piece of art above the mantel or a matching set of black candlesticks. For those who want to make a statement while improving the atmosphere of their space overall, this design choice is ideal.
15.Charming Black Bookshelves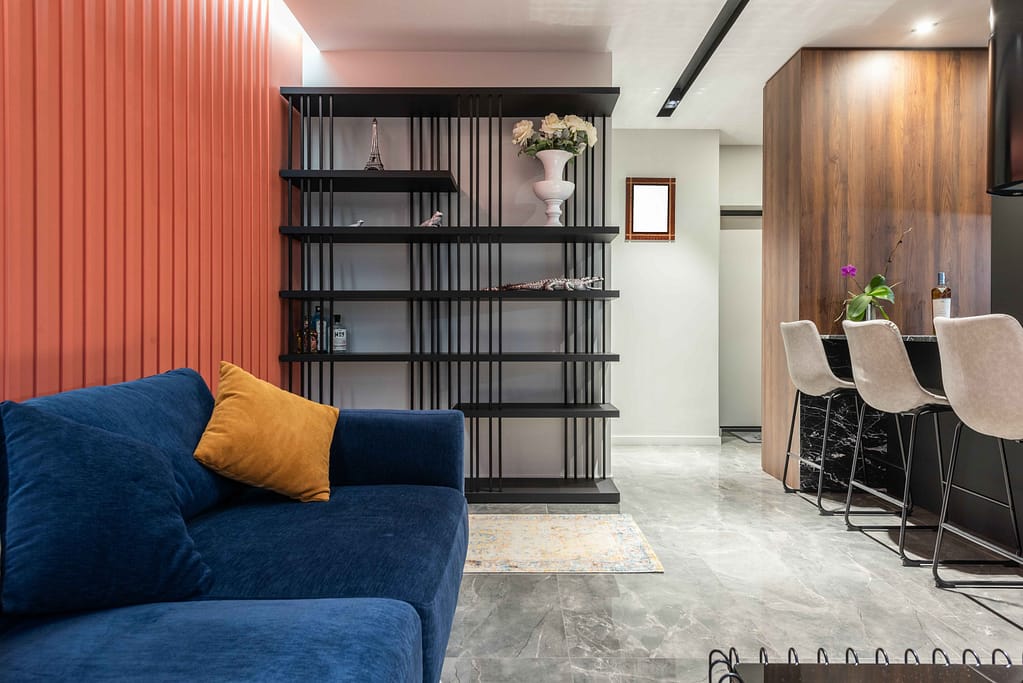 Adding functionality to your space while showcasing your individual style is easy with bookcases. Painting your bookcases black can make a dramatic contrast with lighter walls and act as an alluring room focal point. Black bookcases not only provide a striking backdrop for your books and decorative items, but they also give the room depth and personality. Arrange your books and items carefully to maximize the impact, contrasting open spaces with displays of decorative items, framed art, or family photos. A beautiful and visually intriguing composition is produced by the contrast of your displayed items' colors and textures with the black shelves.
16.Patterned Elegance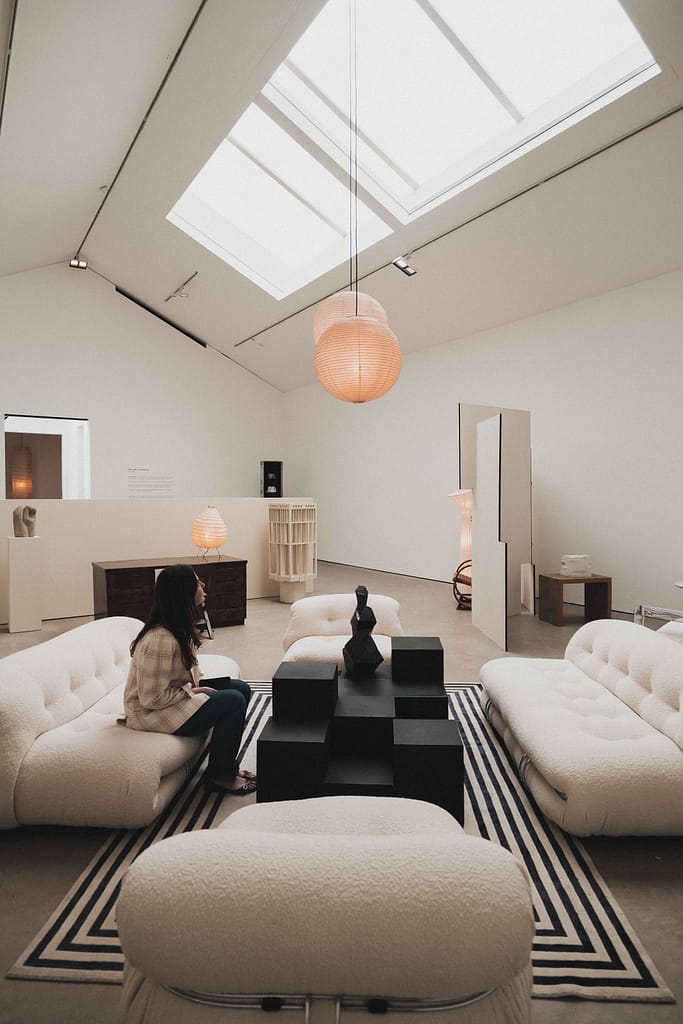 Black and white geometric patterns can add a contemporary and eye-catching element to wallpaper, rugs, or tiles. These patterns convey a sense of order and sophistication thanks to their geometric shapes and clean lines. To add depth and interest to the floor or backsplash in your kitchen or bathroom, think about using black and white geometric tiles. Introduce geometric patterns into living spaces with rugs or cushions to ground the area and add visual interest. Use geometric wallpaper to cover an accent wall for a daringr look that will instantly make the space lively and captivating. While retaining a sense of elegance and order, this stylistic decision gives the room a contemporary edge.
17.Glossy Black Tiles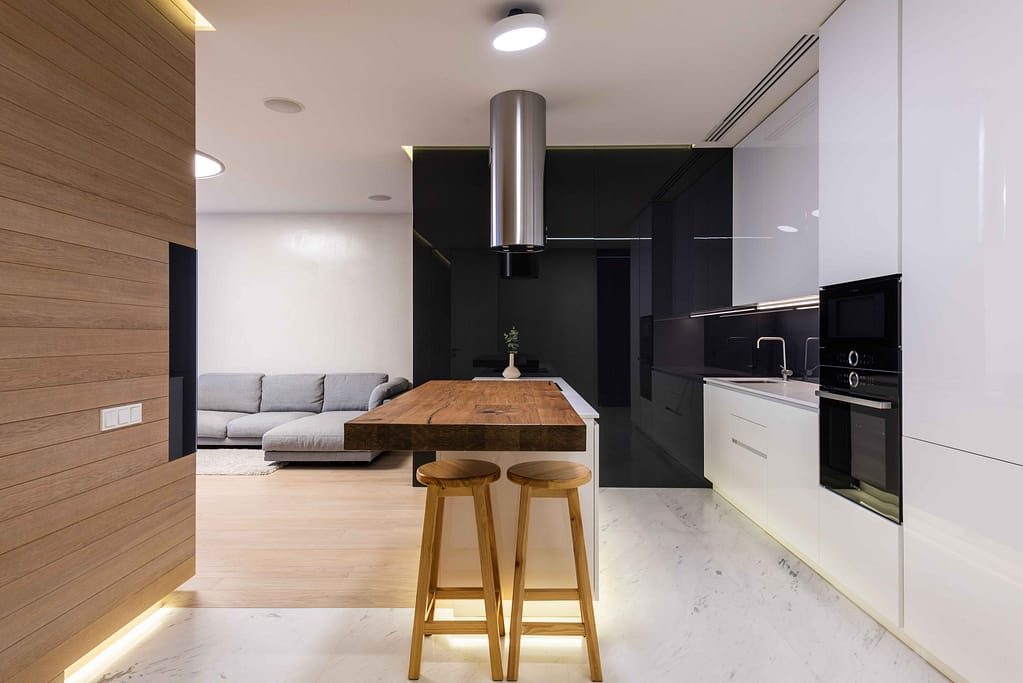 Glossy black tiles, whether used on walls or floors, can help give bathrooms, kitchens, or entryways a sleek and modern appearance. These tiles' reflective surface gives the room a sense of sophistication by adding drama and depth.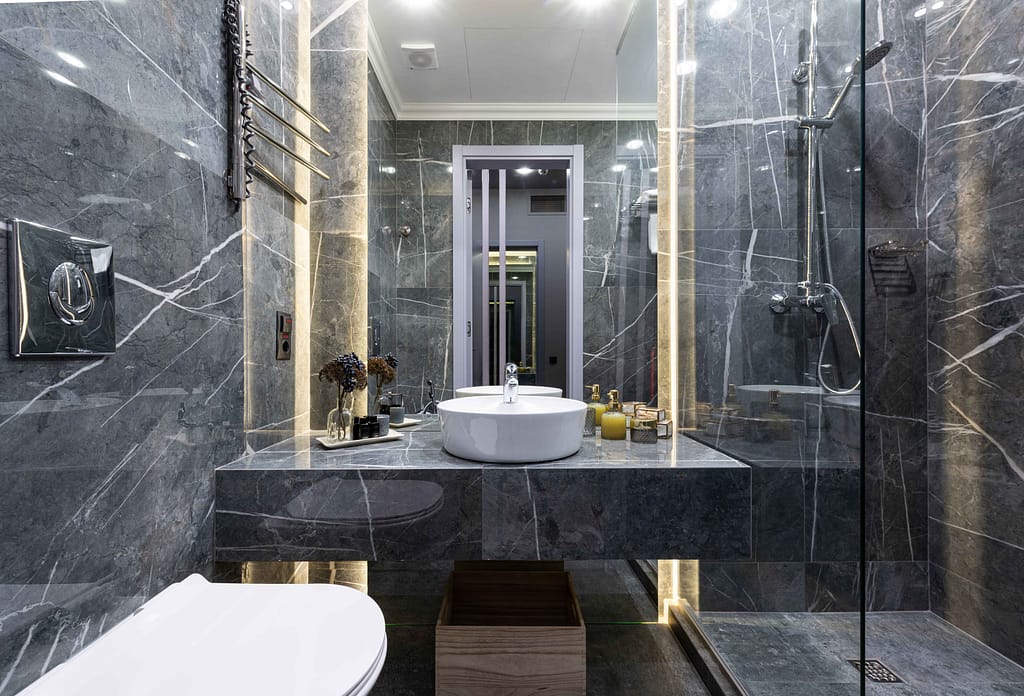 Glossy black tiles can make smaller rooms appear larger by reflecting light and creating a feeling of space. Balance the glossy black tiles with lighter components, like white fixtures or cabinetry, to keep the space from feeling too stark. A striking contrast between the light and the dark is produced by this combination, which exudes a chic and opulent atmosphere.
18.Dramatic Black Drapes
Long, dark curtains can give your rooms a sense of drama, depth, and height.Black drapes that reach the floor draw the gaze upward and exude opulence. however, They can also offer privacy and block out unwanted light when they are closed. Black curtains should be paired with lighter colored walls and furniture to avoid making the space feel too heavy. Utilize curtain rods made of metallic or crystal to reflect light and add a touch of elegance. Black curtains placed against a colorful background give your room a sense of sophistication and theatricality, making them ideal for living rooms, dining rooms, or bedrooms.
19.Industrial Chic Entryway
Setting the tone for your home's interior design is creating a warm entryway with black accents. To create a stylish focal point and a practical seating area, incorporate a black bench or storage unit. To create an orderly and aesthetically pleasing storage solution for coats, bags, and accessories, combine it with industrial-style hooks or shelves, frequently made of black metal. Finish the look with artwork or mirrors with black frames to give the room depth and personality. In addition to being useful, industrial-chic entryways give your home an instant sense of style and personality as you walk in.
20.Black decor and Wood Harmony
Combining black decor with natural wood accents creates a harmonious balance between the bold and the organic. Your space will feel textured and warm thanks to this contrast, which still keeps it modern. To lay the groundwork for a sleek and contemporary look, choose black tables, chairs, or shelving units. To soften the overall design and add a touch of warmth, pair these pieces with natural wood countertops, flooring, or trim. An inviting and well-balanced dynamic contrast is produced by the interaction of black and wood. When a balance between modernity and comfort is desired, this design idea can look stunning in a variety of rooms, such as living rooms, dining rooms, and home offices.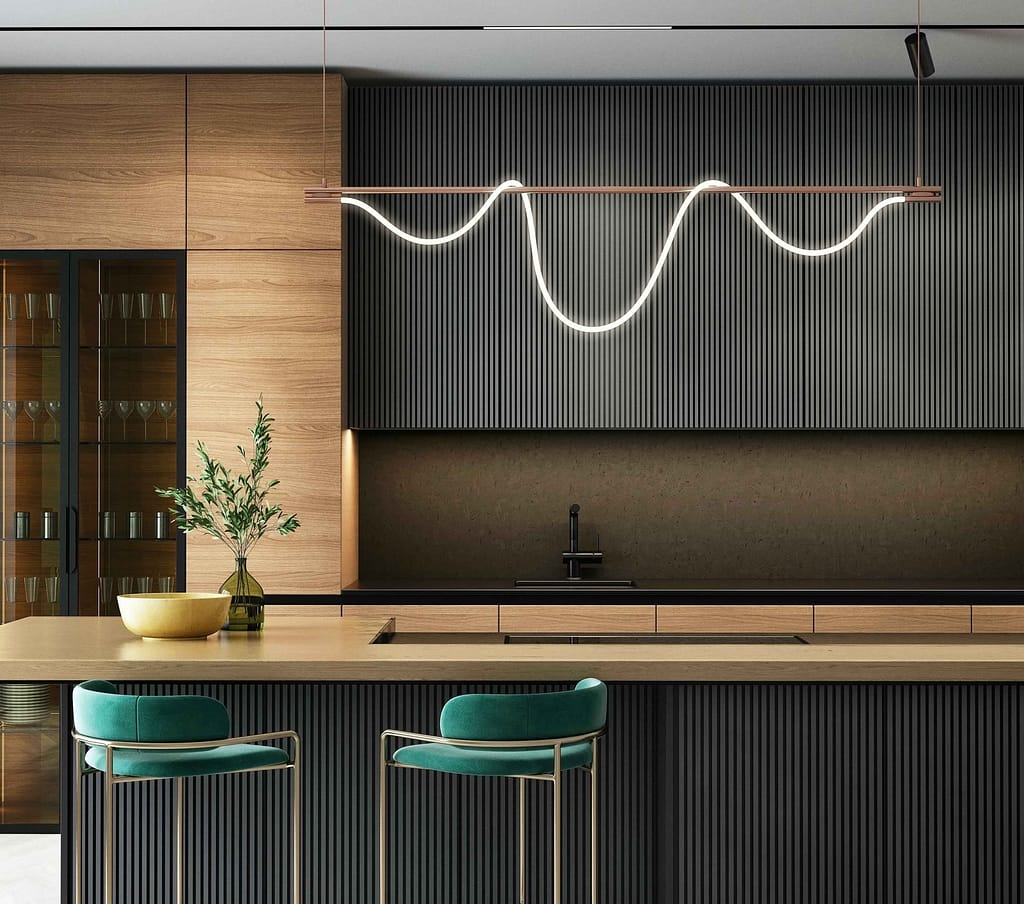 Black has a mysterious appeal that endures in the world of interior design, as we discover as we come to the end of our exploration of the captivating world of black decor. We have seen how black can subtly add elegance, sophistication, and a contemporary edge to spaces through the use of black furniture, decorative accents, and daring design decisions.
Black can go with a variety of styles, from minimalist and contemporary to classic and eclectic, thanks to its versatility. Its capacity to add depth, dramatic contrasts, and dramatic flair to any space is unmatched. Ordinary spaces can change it into visually stunning worlds that radiate charm and allure by adding black.
You can create a unified and fashionable atmosphere by carefully choosing black accents that go with your current decor. Each decision you make affects the aesthetic and ambiance of your home, whether it be a bold accent wall, furniture that anchors the space with sleekness, or accessories that add sophisticated touches.
Additionally, black design components are timeless in their appeal and stand the test of time. They provide a blank canvas for other hues and textures to stand out, and they are easily adaptable to changing fashion trends over time.
Strike a balance between boldness and subtlety as you begin your journey to incorporate black into your home's decor. When desired, let black take center stage. You can also use black to anchor other colors and materials in your room while bringing them to life.